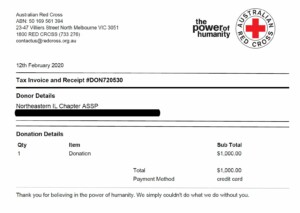 To assist those in Australia devastated by the bushfires that have ravaged the country since last July, the NEIL Chapter recently donated $1,000 AUD ($675 US) to the Australian Red Cross.
As bush fires affect communities across Australia on an unprecedented scale, The Australian Red Cross is right there, providing practical, local support where it's needed to tens of thousands of people during and after the emergencies.
In January of this year, funds to their Disaster Relief and Recovery fund started to significantly increase. The Red Cross made the following public commitments about the use of donations made to the fund from July 1, 2019:
Apart from $5m used to fund Red Cross emergency teams this year, all other funds will be used to support those affected by bushfires.
Assistance will be provided to individuals and communities impacted by bushfires that have occurred across Australia since July 1, 2019.
Up to 10 cents in the dollar will be used for essential administration support costs. We are working to keep these costs as low as possible.
All interest earned will be contributed back to the fund.
All funds will be used in Australia only.
https://www.redcross.org.au/news-and-media/news/bushfire-response-13-feb-2020