Hello NEIL ASSP members,

By now, you may have heard that there is a proposal to update ASSP's governance. Earlier this year, a board-level task force examined industry research, trends, and association best practices to develop a recommended proposal that has been approved by the Board of Directors. This proposal calls for ASSP to transition the House of Delegates to an at-large advisory group. This shift, apparently, would align with legal guidance and association best practices, emphasize inclusivity, and position the member-driven advisory group to inform and influence the Board. In addition, this agile infrastructure would allow ASSP to protect and effectively manage our assets, while the versatility in daily operations would safeguard our long-term viability.
Before this change is implemented, however, we would like to hear questions and thoughts from our members that you may have concerning this proposal.  Below is a short survey asking for your opinion concerning the governance change as well as allowing you to communicate to us what questions and concerns each of you may have. 
For more information, please see the video below and visit the ASSP governance information page: https://www.assp.org/about/assp-governance where you can find explanations and links to email questions.
Further discussion of this governance change will occur during the House of Delegates meeting on September 28th, but the vote itself has been pushed back to give us more time to gather additional data and feedback.
Thank you for your time, we are grateful for your commitment to ASSP.
Northeastern Illinois Chapter of the American Society of Safety Professionals (ASSP) is looking for new sponsors! By becoming a sponsor, you can help build lasting relationships with the Chicagoland Environmental Health and Safety community, network with other local businesses, and get more exposure for your company.
Some sponsor benefits include your company logo and website links on the home page of the NEIL chapter website and opening remarks at the beginning of a sponsored meeting.
To become a sponsor or to learn more click here!

While communities and states across the United States have enacted new measures and added travel and social distancing precautions to slow the spread of coronavirus, the need for personal protective equipment for those on the front-lines still remains high. Here at the NEIL American Society of Safety Professionals chapter we ask you to consider donating any PPE you may have spare including items such as:
Masks
Gowns
Gloves
Eye Protection
Infection Control Kits
Hand Sanitizer
Disinfectant Wipes
Thermometers
If you do intend to donate any of these items please double-check what the donation requirements are for the area/building you donating to. Listed below are a couple of websites with idea's of where and how to donate. Feel free to check out your local police, firefighters, and hospital to see if they need donations as well!
https://www2.illinois.gov/sites/serve/Disaster/Pages/COVID-19-PPE-Donations.aspx
How to Donate Personal Protective Equipment in Illinois to Help Combat Coronavirus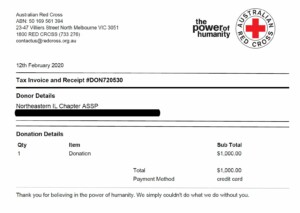 To assist those in Australia devastated by the bushfires that have ravaged the country since last July, the NEIL Chapter recently donated $1,000 AUD ($675 US) to the Australian Red Cross.
As bush fires affect communities across Australia on an unprecedented scale, The Australian Red Cross is right there, providing practical, local support where it's needed to tens of thousands of people during and after the emergencies.
In January of this year, funds to their Disaster Relief and Recovery fund started to significantly increase. The Red Cross made the following public commitments about the use of donations made to the fund from July 1, 2019:
Apart from $5m used to fund Red Cross emergency teams this year, all other funds will be used to support those affected by bushfires.
Assistance will be provided to individuals and communities impacted by bushfires that have occurred across Australia since July 1, 2019.
Up to 10 cents in the dollar will be used for essential administration support costs. We are working to keep these costs as low as possible.
All interest earned will be contributed back to the fund.
All funds will be used in Australia only.
https://www.redcross.org.au/news-and-media/news/bushfire-response-13-feb-2020